Bobcat X3
Product Summary
Ultra-lightweight for superior portability.
Quick and easy disassembly.
Color-through shroud hides scuffs and scratches.
Angle adjustable flip-up armrests for maximum comfort and convenient boarding and exiting.
Easy finger-pull throttle control.
Height adjustable seat with fold down backrest.
Flat-free, non-marking tires for worry-free travel.
Large, metal carry basket.
Easy-to-adjust tiller angel places the scooter's controls in the ideal position.
Anti-tip wheels for additional safety.
Easy free wheel operation.
Please visit the store for more information or call us at: (905) 828-1980
Description
Please visit the store for more information or call us at: (905) 828-1980
Specifications
| | |
| --- | --- |
| Weight Capacity | 265 lbs. |
| Top Speed | 4 mph |
| Maximum Range | 7.5 miles |
| Turning Radius | 45″ |
| Climbing Angle | 6° |
| Ground Clearance | 2.5″ |
| Dimensions (L x W) | 42″ x 19.25″ |
| Floor-to-Seat Height | 17″ – 19″ |
| Seat Dimensions (W x D) | 16.5″ x 13.5″ |
| Controller | PG S-Drive 45A |
| Motor | 24V x 270W x 4700 rpm |
| Batteries (pair) | 12V x 10AH |
| Charger | 1.5A Offboard |
| Brakes | Electromagnetic |
| Wheels | 8″ x 2″ Flat Free |
| Base Weight | 50 lbs. |
| Battery Weight (pair) | 18 lbs. |
| Seat Weight | 16 lbs. |
| Total Weight | 84 lbs. |
| Heaviest Piece Weight (Front Section) | 28 lbs. |
| Warranty on Frame | Lifetime |
| Warranty on Electronic Controller/Drive Train Components | 14 months |
| Warranty on Batteries | 6 months |
Products
| Item # | | Seat | Color | HCPCS* | UOM |
| --- | --- | --- | --- | --- | --- |
| BOBCATX3 | Select | 16.5″ Folding Seat | Red | | 1/ea |
Parts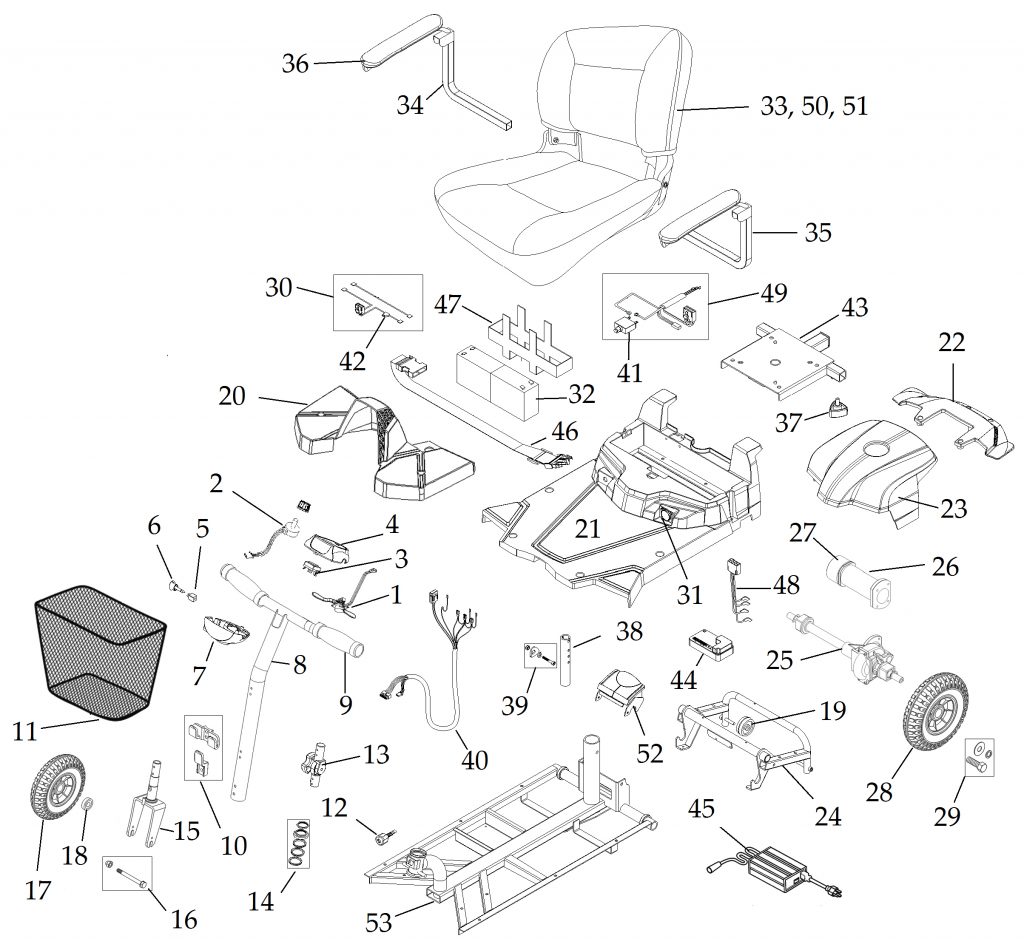 | Diagram Number | | Part Description | Part Number |
| --- | --- | --- | --- |
| 1 | Select | Throttle Assy. | BC31009N |
| 2 | Select | Speed Dial | C12-071-00100 |
| 3 | Select | Battery Gauge | BC31208B |
| 4 | Select | Upper Tiller Cover | C08-050-00301 |
| 5 | Select | Ignition Switch | C18-071-00100 |
| 6 | Select | Key | C18-071-00200 |
| 7 | Select | Lower Tiller Cover | C08-071-00100 |
| 8 | Select | Tiller | C02-071-00100 |
| 9 | Select | Handgrip Foam | S31003 |
| 10 | Select | Basket Bracket | BC35051 |
| 12 | Select | Tiller Lock Set | C08-069-01001 |
| 13 | Select | Tiller Swivel Assembly | C02-069-00401 |
| 14 | Select | Tiller Bearing Set | C29-016-00301 |
| 15 | Select | Front Fork | C03-070-00100 |
| 16 | Select | Front Axle Assembly | BC31141 |
| 17 | Select | Front Wheel | BC31142 |
| 18 | Select | Front Wheel Bearing | 4900WB |
| 19 | Select | Anti-Tip Wheel | S31026 |
| 20 | Select | Front Shroud | C08-071-00300 |
| 21 | Select | Footrest Shroud | C08-071-00200 |
| 22 | Select | Rear Shroud | C08-071-00400 |
| 23 | Select | Battery Cover Red | C08-071-00512 |
| 24 | Select | Rear Frame | C01-070-00300 |
| 25 | Select | Transaxle | BC350112 |
| 26 | Select | Motor | C09-071-00200 |
| 27 | Select | Electromagnetic Brake | C09-071-00300 |
| 28 | Select | Rear Wheel | BC31132 |
| 29 | Select | Front & Rear Wheel Bolt | S350016910 |
| 30 | Select | Battery Harness & Jumper | C18-071-00601 |
| 31 | Select | Charger Port | C18-071-00800 |
| 32 | Select | Battery | BATT12V10AH |
| 33 | Select | Seat/Seat Plate (no arms) | S07-071-00100 |
| 34 | Select | Right Armrest Assembly | C07-071-00400 |
| 35 | Select | Left Armrest Assembly | C07-071-00300 |
| 36 | Select | Arm Pad & Screws | C07-071-00301 |
| 37 | Select | Armrest Knob | S31052 |
| 39 | Select | Seat Post Bolt Assembly | C07-071-00101 |
| 40 | Select | Front Wire Harness | C18-071-00300 |
| 41 | Select | 20 Amp Circuit Breaker | C07-071-00100 |
| 42 | Select | 40 Amp Fuse | BC40AFUSE |
| 43 | Select | Seat Plate | C07-050-00203-C |
| 44 | Select | Controller | C10-034-00100 |
| 46 | Select | Battery Hold Down Strap | C17-071-00200 |
| 47 | Select | Battery Cradle | C17-071-00100 |
| 48 | Select | Motor Cable | C18-071-00400 |
| 49 | Select | Power Cable Set | C18-071-00500 |
| 50 | Select | Seat Upholstery | S07-071-00102 |
| 51 | Select | Back Upholstery | S07-071-00101 |
| 52 | Select | Frame Latch | C08-069-02900-C |
| 53 | Select | Front Frame | C01-069-00102 |